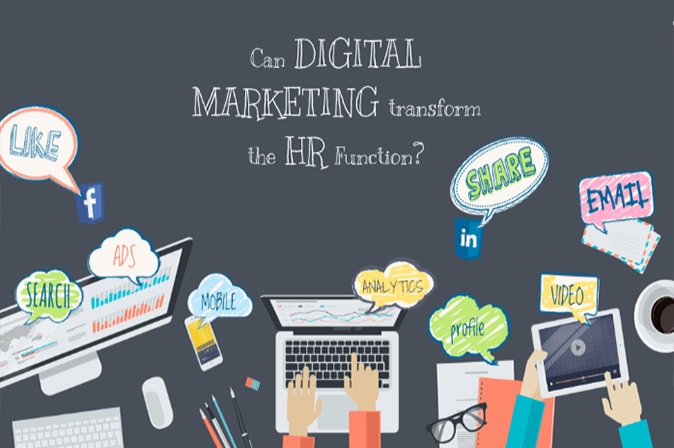 Future of workplace is going digital. Here are the top 3 trends that give a whole new perspective.
Digital transformation is the 'new normal'. Mobile and cloud computing, increasing automation, and artificial intelligence has already created the potential to redefine almost all aspects of a business. And this wave of digital transformation has reached the shore of some forward-looking HR departments, for example, those of General Electric and IBM. Breaking the erstwhile 'departmental' glass ceiling and raising the 'people practices' benchmark, HR professionals of these top honchos are bringing a sea change to their day-to-day activities. And their aim is simple yet impressive; providing a unique employee experience that is human-centric, technology-driven, personalized, memorable, and compelling.
According to a Forrester survey, 47% of executives participated in the survey think that digital will leave an impact over half of their sales by 2020. How digital has brought a transformation to education, retail, media, and transformation is a well-established fact. Now, it is the turn of HR. Consumer and digital marketing are unleashing new methods of recruiting, learning, working, and even engaging employees.
2017 is the time to set the stage for transforming HR to be digital, agile, and consumer (read employee) focused. The following 3 trends are expected to matter the most this year.
Building a unique employee experience
The activities of HR leaders have gone beyond the HR realm. They are actively partnering with the heads of IT, Internal Communications, Marketing, and Global Citizenship to provide all-under-one-roof seamless customer and employee experience. According to a study titled "The Active Job Seeker Dilemma," conducted by Beyond.com and the Future Workplace, 83% of HR leaders considered "employee experience" is either very important or important for their organizational success. Further, they are making significant investments in training (56%), enhancing their workspace (51%), and providing more rewards (47%). With the war for talent heating up, organizations are focusing more on building a unique employee experience. As predicted by Mercer, 90% of employers expect more competition for talent, mainly in Asia and North America. So, turning the workplace an experience will enable organizations to embed their values and cultures into their workplace and leverage them to hire and retain the top talent.
Creating plenty of career mobility options
In 2016, millennials emerged as the largest living generation in the U.S., with their number pegging at 75.4 million surpassing 74.9 million baby boomers, according to the U.S. Census Bureau. However, job hopping remains an issue with millennials. To address this issue, organizations are exploring innovative ways. The Future Workplace Forecast has revealed that organizations are coming up with new methods for employees to explore new roles. They believe such initiatives will result in an increase in employee engagement (49%), employee productivity (39%), and employee teamwork (39%). For industry experts, career mobility platforms are a useful way to enhance employee engagement potentially while managing job hopping.
Pilot Chatbots entering the HR realm
Artificial Intelligence (AI) has emerged as a big market, expected to swell to $47 billion by 2020, as per IDC. Many people think that it is quite like the Internet in the mid-1990s and will be created in all types of services and products. 2016 witnessed a surge in the interest in chatbots with the formation of digital co-workers, signifying a type of software that works in tandem with human workers at their job and participates in daily activities of a company as an active team member. Several chatbots are being used by HR professionals for talent acquisitions activities like suggesting questions for an interview or identifying similar candidates on a job recruitment website. Even, several workplace automation tools are available in the market for teams.
All these ongoing transformations can either be exciting or fearful for professionals. It depends on the way one perceives them. For forward-looking professionals, these opportunities are a means to enhance importance and value in HR. Are you ready to embrace this transformation? We will be glad to hear from you.