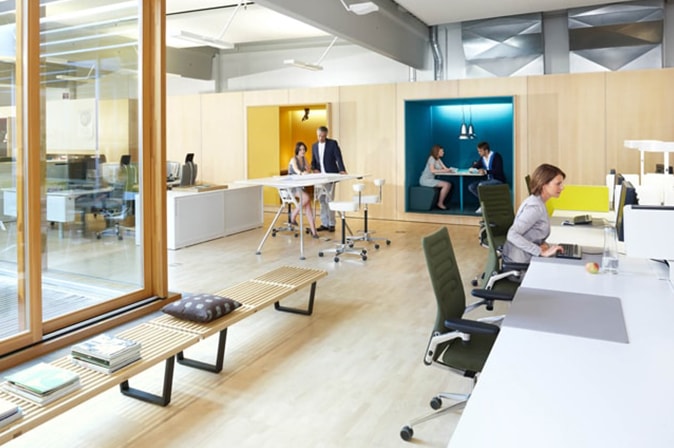 Emerging trends are all set to redefine workplaces. Organizations are feeling the heat – The need to embrace these trends to stay ahead.
The advancement of technology has given today's workplace a new-age makeover. Wearable devices and virtual reality have already made their way to the workplace. Performance reviews have received a new facelift, and Gen Z has started joining professional 'folk'. Against the backdrop of all such new-age hoopla, 2017 has ultimately arrived with its own share of the workplace evolution pie.
Like 2016, 2017 is likely to witness the "full bloom" of the job market. It means both job seekers and employers are likely to enjoy better 'shares', resulting in higher probabilities of salaries shooting up and employers spending more on job advertisements, employee benefits, and recruitment firms. There will be an uptick in the demand for a more flexible work environment and HR practitioners are likely to embrace new-age skills, comprising internet marketing, people analytics, branding, and in-depth knowledge about new-age techniques, including wearables and virtual reality.
Here's our summary on the top emerging workforce trends in 2017:
A rise in the employee as well as candidate experience: 2017 is likely to see the glass ceiling between the HR, customer service, and marketing departments being completely shattered. Aside from customers, developing experience for employees and candidates will be the norm, not an exception anymore. According to a recent study, close to 60% of candidates have had a poor candidate experience, while 72% of them have gone a step ahead and shared their experience on various employer review websites, like Glassdoor.com. More shockingly, a poor candidate experience may turn away your customers who were your candidate with poor experience, leading to a loss in the potential review. Given this, innovative methods have now been implemented by some big honchos. A case in point is Virgin, who has come up with an innovative customer experience for a huge number of applicants and candidates they are unable to recruit. And this initiative has led to the creation of a new revenue stream of seven million dollars. REPEAT: Seven Million Dollars!
Aside from candidate experience, employee engagement and retention have gained priority in the HR fraternity. With the war for talent rearing its ugly head and employees being spoilt for job choices, retaining talent has emerged as the 'topmost priority' in the global HR fraternity. A study shows that 83% of HR believe "employee experience" important or very important for their talent retention and organizational success. They are making significant investments in training and learning (56%), enhancing their workspace (51%), and coming up with more rewards (47%). Even going a step ahead, IBM has started using people analytics to envision retention risk for the talent in prime job roles and inform managers so that they can retain the talent. Accept it or not, talent retention was found to save organizations over $130 million.
Welcome to the blended workforce: The past five years have witnessed the emergence of the gig economy as a major trend and its effect on the global workforce. It has resulted in a new type of workforce diversity, with full-time permanent employees working in tandem with freelancers. A gig economy-based study has revealed that 93% of organizations have already given priority to a blended workforce in view of the collaborative performance of freelancers and full-time workers. Moreover, if several studies from the Freelancer's Union to Intuit are to be believed, about 40% of the workforce is likely to be freelancers in the coming few years.
The present workforce trend sees several organizations recruiting on-demand to address their key problematic areas and reduce costs by doing away with healthcare coverage and other employee-related benefits. The coming time will see more full-time workers and freelancers working together. And since most freelancers work from remote offices, the ability to take care of the workforce across borders will emerge as an important HR skillset.
A complete makeover of the annual performance review: Breaking its erstwhile "annual-nature" straitjacket, performance reviews are steadily becoming a more regular affair. Even the global HR fraternity, nowadays, is indulged in the discussion on performance reviews and how to transform them so that they will cater to both employees and managers. Today's social media-savvy professionals want instant feedback, a unique behavior that is probably the result of their much-touted affinity for instant gratification received on social networks. Participants as high as one-fourth of them in a survey has revealed that annual performance helps little when it comes to their performance improvement.
Gradually, annual performance reviews are fading into oblivion, as today's workforce, on a global scale, are receiving feedback either on a regular (23%), weekly (24%) or daily (19%) basis. Two illustrious examples here are Adobe and GE, who have already replaced their annual review process with regular feedback. Leading by example in this field, Adobe implemented a "Check-In" system. This system allows expectations to be set on an annual basis but feedback to be given on a regular basis. And it has already proved its worth—a 2% decrease has been noticed in the company's voluntary attrition. Following suit, GE came up with "Touchpoints." This system focuses on daily development emphasizing outcomes and changing business requirements. It is also found to be worthwhile, with a five-time increase in productivity noticed in the past year.
Keeping pace with workplace trends is now a necessity, not an afterthought. Every forward-looking organization is now putting more emphasis on these trends if facts and figures are to be believed. Will you take the chance to ignore them at your peril? Do let us know your thought on workplace trends.