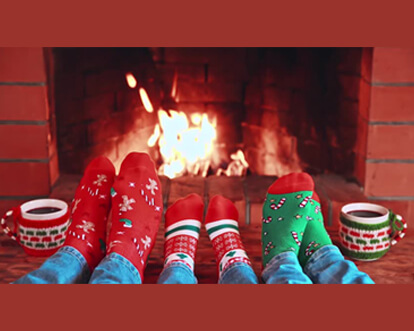 Holidays and stress – really? But yes – these truly can become a stressful period, manifesting at work in less-than-ideal ways. Some self-care and a considerate employer can go a long way.
Ah, the holidays – truly a magical time of the year! Dazzling light displays cloak the neighborhood, Santa Claus drops in with a merry ol' "Ho ho ho" and bears gifts, and relatives and friends gather to have a great time together and indulge in sweet treats. At the workplace, festive streamers hang off the walls, paper cutouts dangle from fluorescent lights, and even the good old workstation looks cheery with some bright decorations.
However, the holiday season does come with its fair share of stress and anxiety. There is so much to address!
Oh, the traffic on the road!
How do I find the perfect gifts for friends and family? (a bother for 38% of people)
Christmas has got to be perfect! (and 41% of Americans work too hard to achieve it)
I do not want to deal with my pesky visitors!
I still have to plan for that party… and what in the world will I wear?
And there's still that work deadline, and oh god my review is coming up!
Bah – that's life!
Well, the numbers do not lie. And there are a lot of numbers!
In 2015, stress was estimated to cost US businesses $300 billion annually, or $2,000 per employee per year
More than 80% of employees find their jobs stressful, and the stress levels get especially high during the holiday season
Gift shopping is a bother for 56% of people
Crowds and lines cause stress for 54% of people
About 41% of Americans admit to working too hard to have the perfect Christmas
But why are holidays so stressful?
More than any other time of the year, the holiday season sees the highest levels of anxiety, sadness, and depression. At the workplace, these feelings mark their presence with lower performance, higher stress, and more conflict.
There are a number of reasons for this:
Working weekends and work on paid holidays lowers the morale
Losing out on time to prepare for holidays due to the above makes one even more negative
There is pressure to reach end-of-the-year goals
Additional personal, financial, and family obligations must be met
There has been some difficulty in relationships, or grief, or being overwhelmed and exhausted
Social media makes one believe that others lead perfect lives, as compared to your own
Sleep habits are poor due to overwork or excess partying
There is the overall pressure to be thankful, grateful, or happy during times of difficulty
This must be causing losses to companies!
Most definitely. A 2018 analysis by Peakon of more than 15,000 employees across the US, the UK, the Nordic countries (Sweden, Norway, Finland, Denmark, Iceland) and Germany revealed that:
Productivity declines for the entire month of December were reported by 7-10% of people
Mid-December productivity declines were reported by 30-40% people
According to Dr. Chris Rowley, Professor Emeritus at the University of London Cass Business School,
Nearly half the workforce hits "festive fizzle-out" by December 18th, spending less time on work than on worrying about holidays
Almost half of the workers admitted they did 10-20% less work
But how will I get to know my people are experiencing such stress?
Not many are going to come forward and explicitly state that they are feeling stressed. It is a good idea to look out for key indicators of higher-than-normal holiday stress or anxiety among employees. The following are red flags to watch out for:
The abrupt change in behavior, such as becoming unduly withdrawn or irritable
A noticeable change in hygiene or appearance
A drop in focus or concentration
Unusual tension with other colleagues
Sudden decline in work quality or productivity
Higher or lower than average attendance
There has to be a way to fix this…
There is, so do not fret too much. On a personal level,
List triggers and coping mechanisms (e.g. crowds at malls are scary, so visit at a less busy time of the day)
List the contacts you can reach out to
Engage in an activity that calms you e.g. a hobby or favorite pastime
Create a gratitude journal where on a daily basis, you list one thing to be grateful for
Focus on things that you can control, and let go of those you cannot
As an employer, the following actions can be taken:
Appreciation for employees who work during a holiday
Floating days off for holidays worked
Permitting work from home
Bonuses for attendance in spendable formats such as gift cards, food coupons, or others
Temporary workers to reduce the load on permanent staff
Reduced work hours to run errands
Crowdsource (i.e. ask the staff) ideas for holiday celebrations at work
Holiday events during business hours
An early quarterly or annual bonus for holiday shopping
Holiday Gifts from the company
Is there anything for company leaders to do?
Of course. Creating an emotionally safe work environment is among the key responsibilities of a leader. Employees who feel safe, develop emotional connections with their co-workers and the organization. Other than the fact that such an environment is inherently right to have, it also leads to significantly higher engagement, productivity, and revenue. And above all else, be available to listen, as often, a harried employee is looking for nothing but a sincere, willing, and patient ear.
Feeling stressed when the holidays are upon you is but natural. As if day-to-day work and other responsibilities were not enough, there is now another task to do. Give yourself a break on a personal level, and as an employer, do what it takes to up the happiness index, as a happy employee is a key to business success!