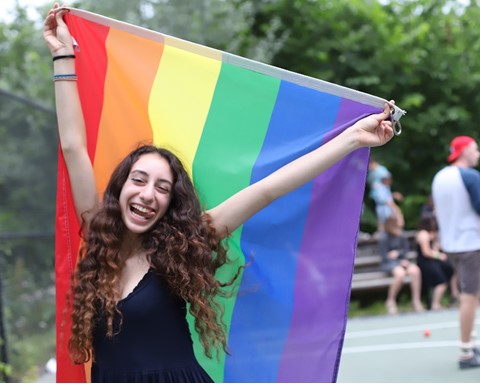 With events canceled worldwide, companies are celebrating Pride Month a little differently during COVID-19. Here's the new normal for pride celebrations.
To commemorate the 50th anniversary of the Stonewall Riots (considered an important event leading to the gay liberation movement) last year, over five million people flocked to New York alone. But this year, the picture is going to look slightly different.
What does this really mean for the LGBTQ+ community? A number of Pride events have been canceled globally; this, though, does not mean that the LGBTQ+ community shouldn't – or can't – continue to celebrate and speak up.
For them, Pride is more than just a rainbow parade, a one-off party or a day-long festival. It is a platform for self-expression. An opportunity to push for social change.
Taking Stock
Here's a quick recap of where the LGBTQ+ community in the US stands legally at the workplace.
Queer people continue to wait for the US Supreme Court's decision on Title VII of the Civil Rights Act.
Not sure what that is?
With LGBTQ+ individuals still facing a serious barrier to enter and advance in the workplace, this is the piece of legislation that will prevent discrimination. Sex, race, color, national origin, religion, sexual orientation and even gender status – everything is covered.
Despite the delay in the decision, companies have gone forward with creating events to champion and celebrate their LGBTQ employees and honor the advocates who fought for their rights, year after year.
But the pandemic has literally knocked these celebrations off course in 2020. The precautions make sense until a treatment route and safe vaccine is available.
How Are Companies Celebrating Pride While Maintaining Social Distancing?
Record-breaking crowds. Parades. All of this matters, because visibility is a massive part of Pride. For communities like the LGBTQ+, it is the road to acceptance.
However, in this era of social distancing, social media is the ideal platform to loudly reassure LGBTQ+ employees of a company's commitment and support to the cause. A celebratory message from the CEO shared on a public domain is all that it needs to get the positive message across.
To kick off Pride this year, companies have gone completely digital. Welcome to the world of Zoom parties, online shows and more.
Rob Smith, CEO of The Phluid Project adds, "Celebrating virtually affords us the opportunity to use digital and social media to be intentional about visibility and representation across our entire community."
This is an opportunity to reinvent. The time has come to shift focus and reconnect with the true heart and soul of the movement. In the absence of in-person events, there are plenty of ways for companies to celebrate virtually that still show respect and commitment to their LGBTQ members.
To take the digital march forward, here's what they can do.
Organizing Virtual Pride Events:
HP has long been dedicated to promoting diversity and inclusivity at the workplace, specifically in reference to LGBTQ+ people. For the very first time, the company celebrated the Pride Month in 2020.
Despite the pandemic waging war, it took the event online. A virtual parade, a Pride Month global webinar on "Inclusive Leadership at all Levels: Raising Your Voice and Creating Cultures of Belonging,", Pride-themed recognition cards, Pride flags, and Pride Month collateral (Zoom backgrounds, newsletters, email banners) were among the initiatives and events planned this June to celebrate the LGBTQ+ community within and outside HP.
Share LGBTQ+ Stories:
The purpose of the Pride month is to amplify the voices of those people in the community who otherwise go unheard. J Andrew Baker, co-President of Interpride, says, "LGBT people around the world are insanely resilient, but they face isolation every day in their life."
By harnessing the power of social media, companies can raise key LGBTQ+ issues, share employee stories and ensure that they reach far and wide.
If your organization has interested employees who are willing to share their experiences, it goes to show the positive impact that the company has had on their personal journey.
Emphasize Safe Spaces:
A report found that 68 percent of LGBTQ+ employees in the United Kingdom have experienced some form of harassment in the workplace. Most have not reported these incidents as the fear of repercussions to their careers run high.
Let the Pride month be the time when companies can reinforce their policy of zero tolerance at the workplace. Discrimination of any kind should be unacceptable, including harassment based on sexual orientation or gender. Introduce services like counselling and remind everyone of judgment-free support.
VISA, for instance, took an important step to show its stand on the matter. In March 2019, the company expressed support for the "United Nations Standards for LGBTI", a best-practices guide suggesting policies and practices for inclusive workplaces and LGBTI employees.
Give Back to LGBTQ+ Organizations:
Companies may consider partnering with non-profits and charities that work with and serve the LGBTQ+ community. This can be a meaningful action that can have a measurable impact on the lives of those who are severely marginalized.
There are tons of ways to give back. IBM contributes to a variety of LGBTI organizations. You too can create an impact, not only with donations but also by encouraging employees to volunteer virtually or by offering services free of charge.
Final Thoughts
Pride began with a protest. While celebratory events have been canceled, the protest has not stopped. The fight against brutality and racism carries on with #BlackLivesMatter movement.
Summer may be synonymous with Pride celebrations, but what organizations must understand and remember is that diversity needs to become an integral and ongoing part of the HR agenda, not just a one-week commemoration. The correlation between diversity and innovation is proven and undeniable, and the uncertain markets of today make it all the more imperative for HR to bring in a wide range of people into a safe organizational space.
No doubt there is devastation, uncertainty and change. But even times such as these, it is important to remember what Pride stands for – dignity, self-affirmation and equality.
The Pride flag sways high, reminding the queer, "You are worthy, you are loved, you have something to give to this world."